Dogs Victoria Night of Nights
Dogs Victoria Night of Nights
Petcover were pleased to finally attend Dogs Victoria Night of Nights, hosted at KCC Park in Skye, Victoria. The event was unfortunately postponed in January due to the heat and general weather conditions.
Despite temperatures hitting 30 degrees on an Autumn Day, competitors of the human and four-legged variety kept cool, calm, and collected with spirits remaining high!
Petcover were thrilled to exhibit and sponsor at the show; the Top Dog and Top Puppy classes alone attracted over 150 entries! Entries consisted of various breeds, such as Italian Greyhounds, Schnauzers, Poodles, Australian Terriers, Jack Russell Terriers, Pointers, and Dalmatians.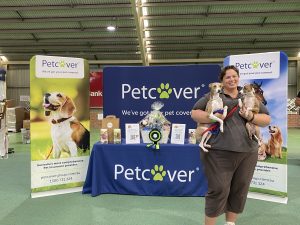 A huge congratulations to all the winners and runners-up of the Top Puppy and Top Dog classes, as listed below:
Top Puppy was awarded to:
AC BELCARA BREAKING HEARTS
DACHSHUND (LONG HAIRED)
Carolyn Mibus
Runner Up Top Puppy was awarded to:
CH ISILWANE DO YOU SEE WHAT I SEE
WHIPPET
Lisa Barrenger
Top Dog was awarded to:
SUPREME Champion .GRAEBROOK ADRENALINE JUNKIE
FOX TERRIER (WIRE)
Graebrook Kennels
Runner Up Top Dog was awarded to:
SUPREME CH ELARABIE OASIS ODYSSEY
SALUKI
S Green, E Guthrie & A Green
We had the pleasure of handing out our Petcover Prize Hamper to Dorothy Alexander (Petcover Breeder Partner), and her 4-year-old Great Dane, Memories, who was crowned Supreme Champion. The duo additionally won the second round of the Top Dog category.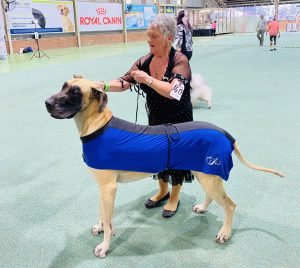 We would like to thank our new partner LifeWise Pet Nutrition for their contribution to our Petcover Prize Hamper.
Overall, it was a great night, involving of lots of cuddles with some friendly champions, along with meeting their owners, and Petcover Breeder Partners!