Petcover Goes to The Melbourne Royal Show 2023
As a proud sponsor of the Melbourne Royal Show for the past 8 years, Petcover was honoured to be involved again in 2023.
This year we were a major sponsor of the Melbourne Royal All Breeds Championship Show – General Specials Day and Horses in Action Competition – Prince of Wales Trophy and the Presenting Partner of the Poultry Competition.
In the Dog Competition over 200 breeds competed and more than 3,700 entries were received across Australia. In the Poultry Competition, they had over 100 exhibitors with more than 1,200 entries and the Horse competition had 400 plus exhibitors competing across 380 classes with more than 2,300 entries.
The quality of competitors at the Melbourne Royal Show did not disappoint spectators, and visitors alike.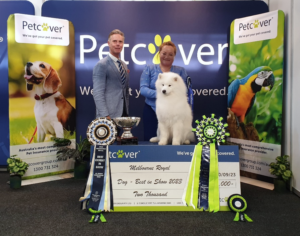 Competitors train and prepare months before these prestigious competitions in hopes of being named Best in Show, Supreme Champion, or winning the prestigious Prince of Wales Trophy!
Congratulations to the following competitors and winners:
All-Breeds Championship:
Best Baby Puppy – Old Iron Rampaging Roy 'Roy' – Breed: Airdale Terrier – Owner: Ron and Anne Sorraghan
Best Puppy – Lakewinds X Marks the spot (Betty Boo) – Breed: English Pointer – Owner: Julie Manser
Best Brace – Alice and Stevie – Breed: Keeshond – Owner: Tracey Parker
Best in Show Winner – Pandora (Panda Bear) – Breed: Samoyed – Owner: Y. Helen Chen
Best in Show Second Place – CIB Supreme Champion Montaires Beautiful 'Beastie' – Breed: Miniature Poodle – Owner: Mrs J MacKenzie & Mrs P & Mr M Clarke
Best in Show Third Place – Reuben – Breed: English Springer Spaniel – Owner: Cam Cavallo
2023 Melbourne Royal Show Poultry Competition:
Supreme Grand Champion in Show – Owner: Michael Paterson- Breed: Bantam Hardfeather Old English Game Black Red Light Leg
Reserve Supreme Grand Champion in Show – Owner: T.J. & D.M. Dent – Breed: Orpington
Grand Champion Pair or Trio in Show – Ducknuts Waterfowl: PAIR , Breed: Light Duck
Reserve Grand Champion Pair or Trio in Show – T.J. & D.M. Dent: TRIO – Breed: Wyandote
Grand Champion Junior – Owner: Oliver Jones – Standard Softfeather Breed: Australorp
Reserve Grand Champion Junior – Owner: Liam Collins – Bantam Softfeather Breed: leghorn Black
Melbourne Royal Show – Prince of Wales Trophy:
Russell Johnstone and Horse Daprice
The show ran from Thursday September 21st to Sunday 1st October and Spring in Melbourne certainly was in full bloom. Weather was superb, with hats and sunscreen aplenty, the show hosted more than 450,000 visitors across the 11 days.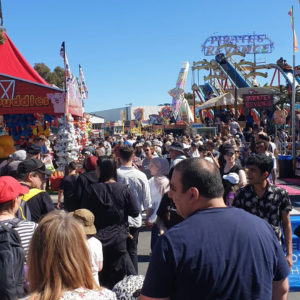 The Petcover events team had a prime position inside Pavilion 18 for many of the dog competitions. An alignment of exhibitors ranged from Pet Nutrition – Lifewise, Treats – Bark with Buster, Apparel – Dawn2Dusk, Grooming supplies – Plush Puppy Australia and Dogs Victoria a peak body representing owners and breeders of purebred dogs in Victoria.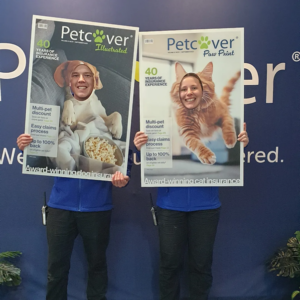 A very happy 175th anniversary to the Melbourne Royal Show and many thanks to the organisers for their support and another successful year!
Looking forward to the 2024 Melbourne Royal, we are excited to continue building upon this relationship.