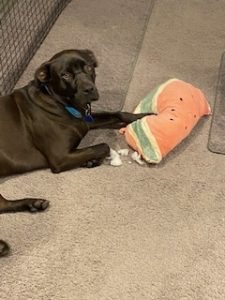 "When we were looking for dogs, Rocky was my choice – I had fallen in love with him without even meeting him and didn't even want to look at any other dogs." So says Cadence Orr, proud owner of Rocky, a highly spirited black Labrador cross.  
When he was just four months old, Rocky's family noticed there was something amiss. "Rocky just wasn't his usual uplifting self," says Cadence. "At first he wasn't eating or drinking water and we couldn't work out what was wrong. Only being a puppy, he usually had constant energy," she says. The worried family rushed him to the local vet. 
Luckily for Rocky, the vet was soon able to work out what had happened, and the mischievous puppy was quickly prepped for surgery to "remove a foreign object", that turned out to be a small plastic bottle cap. "We think Rocky was at the beach when he ate the bottle cap but who really knows. He probably doesn't remember," says Cadence. 
It turns out that Rocky's little adventure with the bottle cap cost more than $2,000 in vet fees. Cases of dogs eating the wrong thing are quite common – and some dog breeds are particularly in the habit of doing so.  
Petcover's resident vet, Dr Martin Hines explains, "For dogs and cats, a mouth is not just for eating. It is also used as a tool for carrying objects, to investigate, as well as for playing. Whether intentional or not, sometimes they can swallow things they shouldn't. Toys, rocks, hair ties, socks, and underwear are common items that are swallowed that can get stuck in the gastrointestinal tract. Unfortunately, once it is stuck, the only way to remove the foreign object is through surgery. Even for a straightforward surgery with no complications, this can cost a few thousand dollars from the initial consultation until all the aftercare is finished." 
Thankfully, Rocky came through the surgery well and it wasn't long before he bounced back. Cadence says, "It honestly only took him 2-3 days to recover.  He had a little bandage on his stomach where the stitches were and that's about it."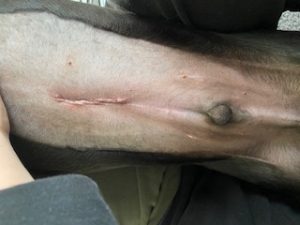 So, how can we, as pet parents, prevent our dogs and cats from eating the wrong things? "We no longer have stones in the garden and switched to fake grass," Cadence says. "He keeps us constantly on our toes and we're always looking out to make sure he doesn't eat something non-food related."  
Dr Hines adds, "Cats and dogs don't associate what they ate with why they became unwell and had to have surgery, and so we end up with repeat offenders who require multiple surgeries throughout their lifetime."  
Sometimes, these things happen, no matter what we do. Taking out pet insurance cover when your pet is young is worth thinking about, to save from those sudden big vet bills – almost as worrying as the thought of your pet needing urgent medical attention in the first place. 
Petcover's Introductory 4 weeks veterinary covers up to $3,000* in vet fees with 3 days waiting period for injury and 7 days for illness. In this case, Petcover was able to settle Rocky's claim in full for veterinary treatment as it fell below the payment threshold for cover. Other, similar products offered on the pet insurance market have thresholds below $2,000, meaning that if Rocky had made a claim, the owner would have been liable to cover the additional fees. 
"Rocky is unique to our family because he's protective of all of us and we just know he wouldn't want to be with anyone else. He's ball-obsessed but food is his first love. When we play with the ball at home, he sometimes finds it hard to pick between potentially letting us get the ball and eating the food. He gets quite torn." And, despite his tendency to eat the wrong thing, their family wouldn't have him any other way. 
*Excluding excess.  
How Petcover can help your pet
Petcover specialises in offering quality, straightforward pet insurance with a range of policy options that suit your needs. Whether your pet is big or small, furry or scaly our range of cover options are packed with added benefits. Accidents can happen at any time and the reality of veterinary costs can come a quite a shock. With our range of cover levels for dogs, cats, horses and exotic animals, why not get a quote today.